SQK Duplex Stainless Steel Swing Check Valve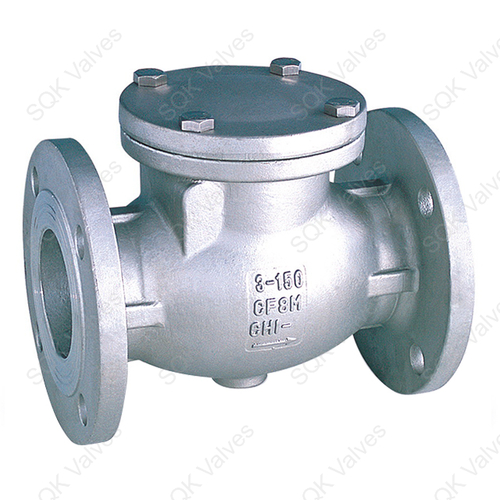 SQK Duplex Stainless Steel Swing Check Valve
Price And Quantity
Unit/Units

5000.00 - 30000.00 INR
Product Description
A series of API BS 1868 Swing Check Valves is rugged, durable, and known for its quality, integrity, and longevity.
Seals are tight and easy to operate with these valves. Valve can be flanged at one end and bolt weld at the other, with pressure classes ranging from ASME Class 150 to Class 2500 and a variety of materials of construction.
A swing-type check valve has a bolted-cover construction. BS 1868 and API 600 specifications, including the thickness of shell walls, are met.
Main features of SQK Duplex Stainless Steel Swing Check Valve:
Bolted body-cover design, welded seals, and air-pressure seals on the valves
Stainless steel spiral-wound gaskets and graphite filler are used at body-cover joints to prevent leaks
The stem-disc connection between the gate valve and the stem meets API 602 and API 598 standards for strength
Smooth operation with ACME threaded stem
The gland assembly has self-aligning studs and nuts for tightening
Globe and check valves have an integrated hard-faced body seat
No horizontal applications with spring-loaded disc check valves
We offer electrical actuators for gate as well as globe valve
Austenitic SS forgings for bodies and bonnets of cryogenic valves, which can withstand high temperatures, heat loss, and corrosion resistance
The valves can meet NACE MR-0175 requirements along with other special NACE requirements
Cast steel ASME B16.34 Swing Check Valves Pressure Seal Bonnet design
A pressure seal bonnet design is used on ASME B16.34 Swing Check Valves and Y Type Swing Check Valves for high-pressure applications. Thermal power plants, fertilizer plants, oil refineries, and petrochemical plants frequently use these valves in high pressure and high temperature steam, chemical, oil, gas, and water applications. Carbon steel and alloy steel valves are available in buttweld ends and come with pressure ratings of 900, 1500, and 2500.