Welded Cover Swing Check Valve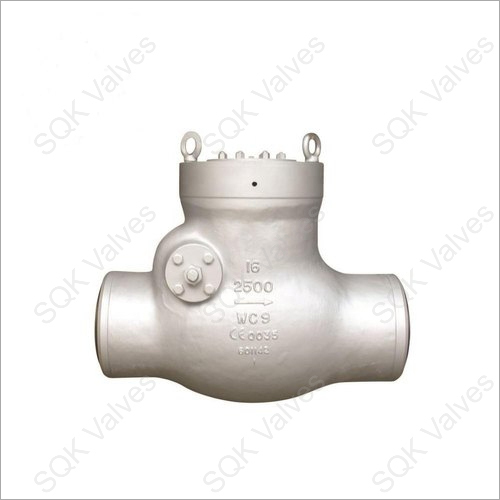 Welded Cover Swing Check Valve
Price And Quantity
Unit/Units

5000.00 - 30000.00 INR
Product Description
Welded Cover Swing Check Valve

The Welded Cover Swing Check Valve is a strong and leak-proof valve of bolted body bonnet joint. With its use, there is no penetration of hinge pin. In that case, pin seal leakage can be eliminated. It is accessible with a compact cage unit. Welded Cover Swing Check Valve has a mirror finish as well as maximum erosion resistance. With a long service life and seal-welded body, the said valve can rotate well for a tight shutoff. The seating faces of the valve can be re-lapped. Also, it has a forged bonnet and allows for superior functionality.
We are offering here the Welded Cover Swing Check Valve that are heavy duty, bolted cover, renewable seat ring, internally body mounted disc arrangement. These valves are unidirectional valves and restrict flow from opposite direction. These valves are best suited for moderate velocity conditions. Swing check valves are normally designed for horizontal flow condition, but can also be installed in vertical pipeline, but in vertical pipeline. The offered Welded Cover Swing Check Valve is very durable and durable.

The API BS 1868 series of Swing Check Valves is exceptionally sturdy, rugged and durable, with a reputation for quality, integrity, and long service.
They are designed for tight sealing and ease of operation. The valves are available flanged & butt-weld ends in pressure rating from ASME Class 150 to Class 2500, and in a variety of materials of construction.
Check Valves are of swing-type and bolted-cover construction. They conform to BS 1868 and also meet the general requirements of API 600, including shell wall thickness.

Main features :
Bolted body-cover design, seal welded & Valves with pressure seal cover
Bolted body-cover joints provided with spiral-wound stainless steel gasket and graphite filler for maximum protection against leaks
Die-formed graphite inner packing rings and braided graphite end rings with Inconel wire reinforcement and corrosion inhibitor
T-head stem-disc connection of gate valve fully meets strength requirements of API 602 and API 598
Rolled ACME thread on the stem for smooth operation
Tapered shoulder on the stem for back seating
Self-aligning type gland assembly with stud-and-nut tightening
Integral hard-faced body seat for globe and check valves
Spring-loaded disc on check valves suitable for no horizontal applications too
Gate and globe valves can be offered with electrical actuators
Austenitic SS forging for body and bonnet of Cryogenic valves, resulting in excellent impact strength, minimal heat loss, and resistance to corrosion
Valves can be offered to NACE MR-0175 and other special NACE requirements

Cast steel ASME B16.34 Swing Check Valves Pressure Seal Bonnet design
The ASME B16.34 Swing Check, and Y Type Swing Check Valves feature a pressure seal bonnet design for high-pressure services. These valves are extensively used in high pressure and high-temperature steam, oil, gas, chemical, and water applications in thermal power plants, fertilizer plants, petrochemical plants, and refineries. These valves are available in butt weld ends in pressure ratings of Classes 900, 1500 and 2500, and come in carbon steel and alloy steel construction.